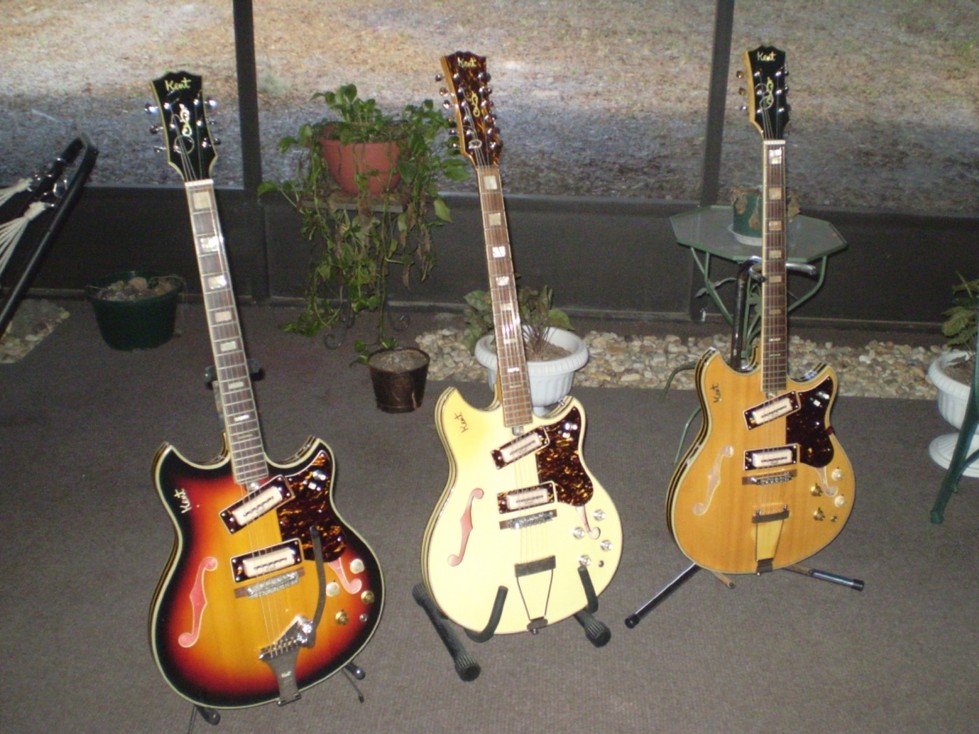 Trio of Kent 820 guitars


Left to Right:
1968 Kent 820 6-string Sunburst with Vibrato
1967 Kent 820 12-string Antique White
1966 Kent 820 6-string Blonde or 'Natural'
Love is in the details!

(click on the blue links to enlarge images,
then click the Back < button of your browser
to come back here)

There is an enormous amount of Mother-Of-Pearl inlays
in these guitars, the 820 had no less than

two

'Kent'

mother-of-pearl logos
-one logo on the Headstock, and one on the upper 'bout' of the body-


And

if that wasn't enough, the 820 has a vertical 'Treble Clef motif' inlaid
on the Headstock too.


And

they inlaid the fingerboard starting at the

FIRST fret

,
which other guitar companies avoid doing,
almost always starting the fingerboard inlays at the

SECOND fret

.
To be fair, the Gibson EMS-1235 guitars were made with fingerboard inlays
starting at the

first fret,


but later on, Gibson started a practice of

not

inlaying the first fret.
The Japanese have plenty of mother-of-pearl,
and they used a lot of it in the Kent 820 guitars!
But WAIT! there's more!
the 820 guitars were Triple-Bound!
serious routing machine work was done to achieve triple binding.
The 820 guitars used a lot of synthetic Tortoise shell material for decoration!
the early Kent 820-12 Headstock was decorated with this material
and then inlaid with Mother-of-Pearl!
all Kent 820 have pickguards (also known as 'finger-rests') of this
laminated tortoise shell material.
what is Mother Of Pearl?


Mother of Pearl, also known as

'Nacre'

in Latin, and 'Nacar' in Spanish,
comes from the shells of the Nautilus
and other ocean shells.
It is used in the
decorative arts;
It is a beautiful material, grows in many colors, from white to colorful translucent shades
of red, purple, blue, green, pink, silver, copper, and gold.
When these creatures outgrow and shed their shells, we find the shells on the beach.